The Bad Lizard Story
Johnnie H. Rominger and Trevor J. Flanagan are the creators and owners of Bad Lizard Granite & Quartz. These two have been friends for a very long time, ever since they first met in kindergarten. At a young age, they developed a bond that would go on to last over 35 years.
Growing up, Johnnie and Trevor discovered their passion for building things. Whether it was a tower made of blocks or a house made of 2x4s, they loved to build. They got older, their creations got bigger. As they grew, they always remembered that there was one big thing separating them from their competition: Quality. That strict attention to quality became the bar they would set when hiring others, especially the subcontractors they would use for their projects.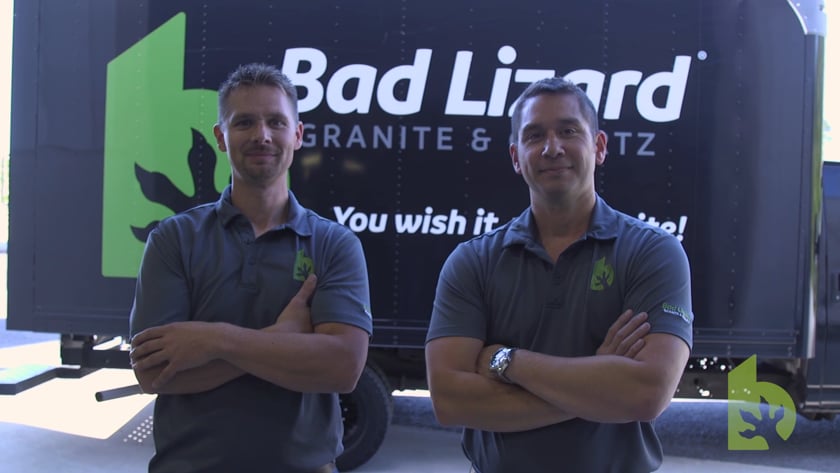 When it came to the stone countertop fabrication and installation for their projects, they always felt that what was available to them here in West Virginia was lacking. The companies providing these services did not have the quality or the professionalism they felt they deserved, so they decided to go out and build that company from the ground up.
They decided they could provide something better, so in early 2014 they hatched the ideals and characteristics that Bad Lizard would go on to demonstrate. In May, Bad Lizard Granite & Quartz came to be an official WV born-and-bred company.
That summer, along with some of the area's finest stone fabricators and installers, they opened up their fabrication facility in Clarksburg, WV. Their mission statement is simple: To give the client the utmost in quality craftsmanship, to display professionalism with each interaction, and to provide the largest selection of stone slabs in the area!
"When we are finished with your installation, you will remember us. Maybe because of our name, maybe because of our slogan, but I can assure you that every time you have friends or family over to your home, someone will compliment you on your stone countertops. It is at that point you will remember the great experience you had with Bad Lizard Granite & Quartz."

Directions
Finding our location can be a little bit tricky. No worries, we'll guide you right to our front door.
Call Us Now
Seriously, we have the easiest phone number possible to remember. Give us a call today at 304-GRANITE (304-472-6483).